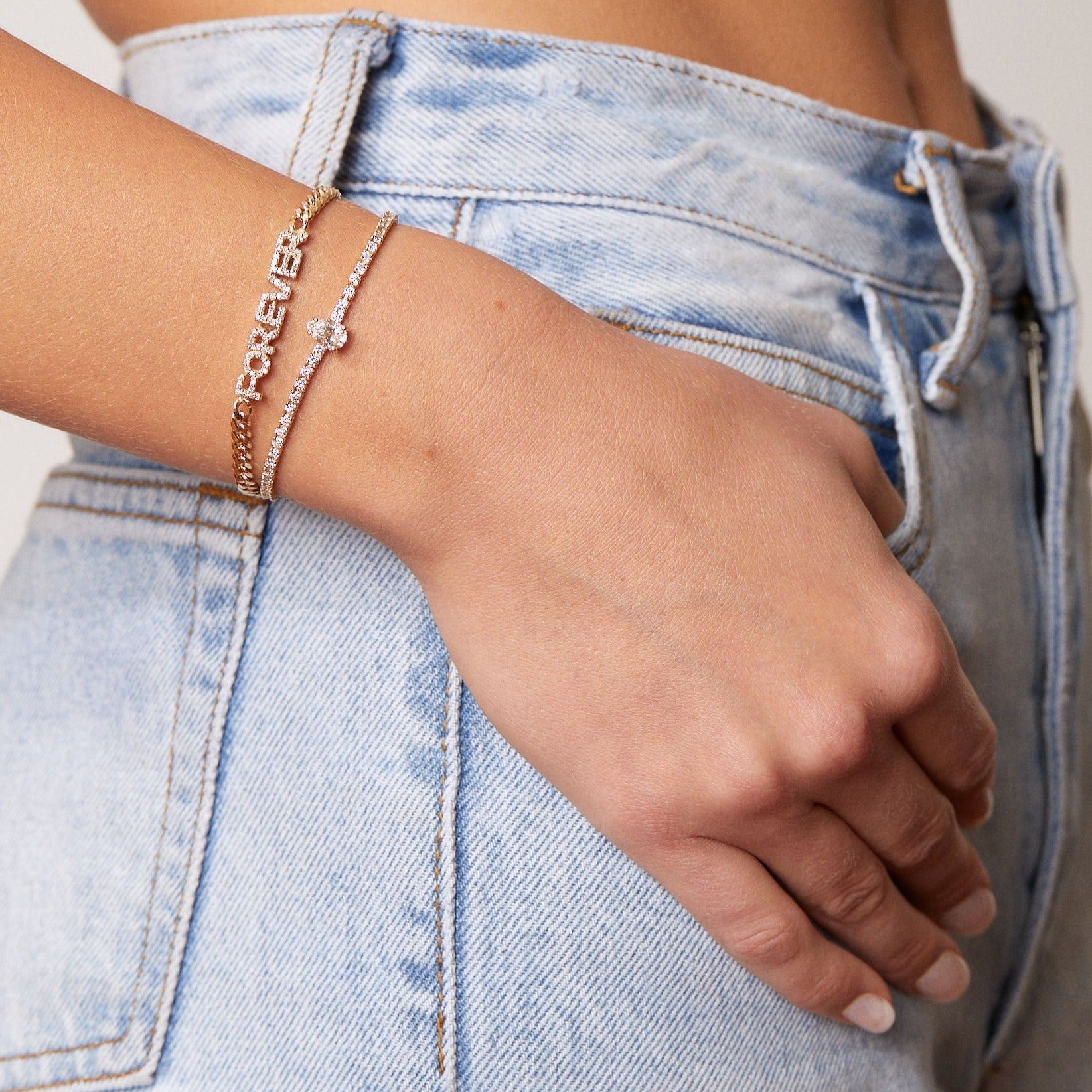 Custom Diamond Nameplate Bracelet
We're having an arm party and this customizable bracelet is
definitely
invited. Dubbed a "must-have" for any wrist 
stack by all models everywhere, if you're adding one investment piece to your jewelry collection, do yourself a favor and make it this one.
14K yellow gold bracelet
Diamonds CTW varies depending on number of letters
Length 13cm-18cm
Handmade in Los Angeles, CA | Custom orders ready in 7-10 days.
Custom Diamond Nameplate Bracelet
In LoVe
I am in love with my Custom Diamond Nameplate Bracelets! I am also extremely pleased with how fast I received them! The only advice I would give when ordering small and large sizes, would be to consider sizing up for the larger, as it is a bit more snug. Thanks! xoxo
Long Wait For Item
I ordered my bracelet about a month ago and still haven't gotten an email about the item being shipped. I was so excited when I ordered my bracelet and it's a HUGE letdown that the wait is this long
Customer Service
I can't say much about the product because I don't have it yet but the customer service is A+ amazing help from the team at this company. The customer service will keep me coming back. I can't wait to get the bracelet and wear it everyday. Thank you for your help here!
I absolutely love it!
I want to start off by saying that customer service at Stoned Jewelry LA is great. They answered all my questions regarding the my item and its delivery. This one's quite pricey so I needed to make sure that it's properly packaged and delivered on time and I've had no issues with that so far. I'm loving this necklace!
this is perfect for summer :)
I am obsessed with this bracelet! The quality is perfect. The packaging is nice and the customer service is topnotch. They've been very helpful. Btw, this is perfect for summer :)
Size Guide
Frequently asked question
Use this to answer some common questions you hear from your customers. You could discuss product details, size fit, shipping policies, or anything you think would help merchants make an informed decision about your products. This section will appear across all products.
FAQ
How do I take care of my Stoned Jewelry?
Shipping
Fast shipping
Made in Los Angeles in 5 business days. Express shipping 1-3 days.
Order tracking
All orders shipped with tracking, signature required, and fully insured.
Get in touch
Contact us at orders@stonedjewelryla.com
The Stoned Difference
Genuine Diamonds
Stoned Jewelry sources high quality, genuine diamonds certfied by the Gemological Institute of America. Paying special attention to the four C's - clarity, color, cut and carat weight.
Creation Method
Stoned LAB Diamonds
The same brilliance, physical and chemical properties of the genuine diamonds you love, at more attainable price points. Stoned Jewelry Lab Diamonds are created in the Stoned Lab in the heart of Los Angeles.